Photofacial with Ultrasound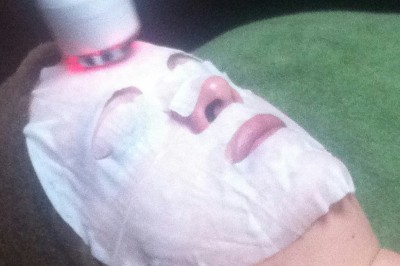 Photofacial using Red Light and Ultrasound is pictured here.
Photofacial can be done with almost all facials and is added at no additional charge with purchase of facial.
A photofacial is a facial that includes treatment with Light Therapy. The lights used are LED, which refers to "Light Emitting Diodes." Light therapy can be used to treat many different skin issues, and each light is associated with particular benefits:
Red Light: Increases collagen production by 5-fold, triggers repair mechanisms and stimulates fibroblast cells and cell growth. It increase circulation and healing by carrying more oxygen and nutrients. The red spectrum is absorbed by all skin layers. It will help to refine fine lines and wrinkles, reduce redness and inflammation and promote brighter, smoother and more youthful-looking skin. It will also promote faster healing of inflammatory acne, rosacea and areas of of redness.
Blue Light: Penetrates the superficial dermis and has a calming and regulating effect on sebaceous glands. It produces "singlet" oxygen which can effectively destroy acne-causing bacteria. It effectively "sanitizes" the skin.
Green Light: Decreases melanin production, reduces hyperpigmentation and eliminates the redness associated with use of chemical peels. Delivers a totally natural method of light-only skin rejuvenation which uses the body's own natural processesto help counteract the effects of aging.
Ultrasound: Also called Wave Magneto Therapy, the ultrasound facial process is a gentle, non-invasive skin care treatment that is safe and suitable for all skin types, from acne to rosacea and mature skin. All skin types will benefit! And there is no down time; it works quietly, leaving no redness or irritation behind. Ultrasound compliments applied skin care products by helping products to penetrate- this is called sonophoresis. The pulse of the ultrasound also gives a massaging effect you will love. It promotes the metabolism of collagen, activates fibroblasts, enhances skin elasticity, strengthens muscles, accelerates nutrition supply, regulates pH of the skin and improves the skin condition by renewing old damaged collagen layers.